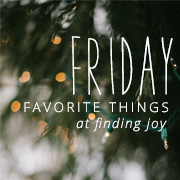 I am so grateful to the Author of
Finding Joy
, she always seems to have something to say that takes me out of my "Mommy funk" on the days when I find myself struggling in that position. I am so grateful for the words of someone so honest who is willing to tell it like it is in hopes of helping people like myself who are eternally grateful. I have decided to join her in
Friday Favorite Things
, to express some intentional gratitude for the wonderful parts of my life.
So what am I grateful for today;
My loving, supportive Husband
My wonderful, amazing little boy
My "Mentor" Roslyn Maxwell
The wonderful children I take care of during the week and their amazing parents
My job
My home
Our 3 amazing dogs
This beautiful day
All the wonderful, amazing women in my life
I have many things to be grateful for and recognizing that shows me I have nothing to be grouchy about and my rough morning was only a moment in time! Thank you Rachel Martin for reminding me how blessed I really am.